Milking got off to a somewhat late start this morning but the girls seemed to have things well in hand so I decided to take a few moments to enjoy the quiet morning and, while I was at it, chronicle the morning in pictures. On the path to the dairy I was sad to see the dead trees. Thank you drought. Cyclical reality of nature though it may be, still I hate to lose trees.
Shelly. The old girl on the farm at nine years old, quite old for a Great Pyrenees.
Gunner, the Golden Retriever of Sara's dreams. He was her 18th birthday gift and we were thrilled to find him at a shelter. I find it ironic that he had been released by his previous owners because they were pregnant. He has been wonderful with the children here and I have no qualms what-so-ever should we become pregnant again about keeping him around.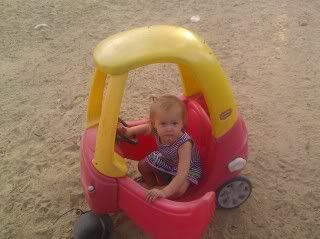 Dixie clean and dressed and ready for the day. I predict that she won't look so sweet and clean for long...
The milkers lining up to come into the holding pen for the morning milking. as usual, the LaManchas in the lead...nothing stands between them and their feed--well, except the holding pen gate at this point.
That first batch of milkers on the stand...front and rear view. Yes, we are milking by hand.
Ran into a Roman gladiator on the path back. I thought I was the only one around here who feels like they have to get up in the morning and gird themself for battle.
Remember that sweet and kissable toddler? Head down in the sand. Also predictable is the fact that if one of my children sees a sibling being photographed they have to get in on the act...
and now on to the rest of the day...