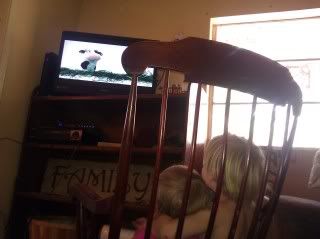 When we have received products to review for
The Old Schoolhouse
Review Crew
it has primarily been for the older children. This has been fine for us as we tend
to adopt a very casual approach to education for our younger children. Living on a dairy farm means that this time of year is consumed with delivering baby goats, bottle feeding baby goats, pasteurizing and bottling milk and making cheese. Consequently almost all schooling--in fact almost all housecleaning, cooking, laundry folding, sleeping, eating and drinking is done casually, if at all! These activities are picked back as kidding season dwindles down and we adjust to the increased workload of processing additional product for market and we do school through the Summer months to compensate for the crazy days of Spring yet I still always struggle with feeling guilty for not maintaining a more "normal" school schedule. When we had the chance to review a program designed to teach reading to very young children I thought it would be a fairly straightforward and easy review to do of a product that would possibly fill in the gaps created by having a livingroom full of baby goats.
The concept of the program is fairly simple. Young children are like sponges, ready to absorb knowledge. This is evident to anyone who has an infant in the house. Everyday brings new discoveries when you have a baby like our Dixie. It might be learning a new gross motor skill like how to safely climb off the deck (or the couch on which your absent minded sister left you!) or how to stack blocks or feed yourself with a spoon. The
MonkiSee
program combines a DVD for children to watch, a book for parents to read to their children and flashcards. It is recommended that the child be immersed in the progran, watching the movie daily as well as being read to and shown the flashcards. The claim is made that even fundamentals of phonics can be acquired by learning the sightwords and applying the similar sounds to new words when new words are encountered.
Does the program work to teach reading?
I will be honest...I do not know. My children are almost always late to begin reading (quite possibly due to the previously mentioned relaxed early years) although they catch up to grade level within months. I never would have considered teaching my baby to read. We have not used the program long enough to actually identify reading type skills in the children who watched the DVD. Dixie, age 12 months, Seth, age 3, Judah, age 4 were the ones that we targeted with this program although I think every one of our other children, from Noah, age 6 clear up through the young adults watched it at some point. Sara (almost 18) received quite a bit of ribbing for being caught singing the "MonkiSee Song"!)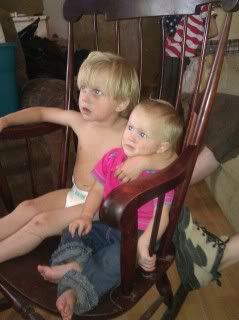 What I can tell you is this...the DVD has an almost mesmerizing quality for my younger children. I would have never thought that you could keep a toddler still for that long--not once but on a daily basis. Dixie did pick up things from the movie--she clearly anticipated the actions of the children on the screen and responded by clapping and laughing predictably at the same places each time. My older children observed that this was the first thing we have ever put on the television that actually captured Dixie's attention and one of the few things that held the attention of even the older preschoolers. Considering the capacity of children to repeat entire movie dialogs or parrot television advertisements I would expect it to be not unlikely that they will pick up numerous sight words through the use of the DVD.
The olders also observed that they felt that the period of time that the actual word being taught was on the screen was too short, that when the screen displayed the word "nose" followed by myriad pictures of noses, that it would have been advantageous for the word to have been displayed for a longer period of time or even the entire time that noses big and small were being shown. I tend to agree--but despite having raised a goodly number of toddlers, I never feel like I understand how the toddler mind works well enough to say that I can necessarily do a better job at teaching a toddler to read than the next person. That being said, we will continue to use the DVD to fill in gaps with our toddlers for the duration of this crazy season at least one more month in duration) and will consider continuing with additional products offered by the company at that time.
The DVD that we received retails for $24.95, on sale right now for $19.95. The entire "Baby Reading Kit", consisting of six DVD encompassing "Baby's First Words", "All About COlors", "All About Shapes", the MemoFlix DVD Volume 1 with 800 words and pictures with audio, volume 2 with whole word phonics and the parent guide. This comprehensive kit retails for $265.35, on sale now for $139.95.
I received the materials for free in exchange for this unbiased review.