Baby goats are here--we brought 14 to new owners yesterday and that wasn't even half of them! This was after a week of selling a good handful of
doelings
! This means milk is here as well! In about a two week period of time we have gone from getting about eight gallons of milk daily to pushing twenty. This means that all of those people who have been waiting not-so-patiently on the waiting list are starting to see some of the white stuff for which they have been waiting!
The new dairy building is nearing completion and not a moment too soon. Our old milk machine bit the dust. The new milk machine cannot be used in the old building due to electrical requirements. This means that we are milking by hand. We are running teams of four people each milking to get the job done but hopefully by this time next week we will be all moved in to the new building and will be back to only needing two milkers per milking session.
At that time we start work revamping the old milk parlor into the new cheese-room.
Yay
! At that time we hope to also move the antique but new-to-us cream separator into place and fire it up to try our hand at some butter and triple cream cheeses.
Seth turned three yesterday. He is an amazing child. Not a single one of my boys ever made it through that year between the second and third birthday without multiple injury-related trips to the emergency room but he has done it. He is a super sweet cuddly boy who
loves
his goats. A few months ago he was given a set of small plastic farm animals. They are quite realistic, with the female cows and goats having udders and the males having their pertinent parts. A few weeks ago he and I were at market one Saturday and he sat beside me playing with his animals. He looked at the cow with it's full udder and said "she needs to be milked!" He set the cow down on
the
table and set his hands on either side of the cow, squeezing as i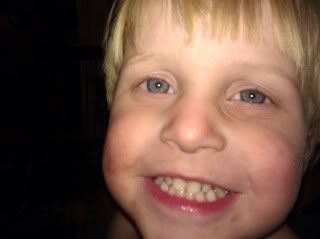 f he were milking. After a few minutes he looked at his hands with puzzlement--that wasn't
working
, he
couldn't
get them under the cow to where the udder was. So, he turned the cow upside down, set it on it's back and held his hand over the cow's udder and commenced to making milking motions again before stopping and considering--
this
didn't work, either. The udder
still
was not being actually milked.
Finally
he stopped, set the cow back upright, put his hands in his pockets and started whistling between
his
teeth "
shhhhh
shhhhhh
shhhhhh
shhhhh
" then looked up at me knowingly and said in a conspiratorial fashion and a nod "I'm using
the
machine..."
Those who have followed the shenanigans at Swede Farm for several years know that back in 2009 a movie was filmed here on
the
farm, with a
sizable
segment
including
those of us who make up the farm family. We got word recently that the film will be screened at the
Montreal
and Brussels film festivals this summer with more festivals considering it. I am waiting until the entire list is in before deciding which screening locale I want to visit. (Anyone here think we will be taking a vacation to Europe this Summer? HA!)